As in GitHub Markdown Dialect, Bear supports code blocks and syntax highlighting for over 250 languages (listed below). You simply need to specify the programming language after the first block marker.
An example: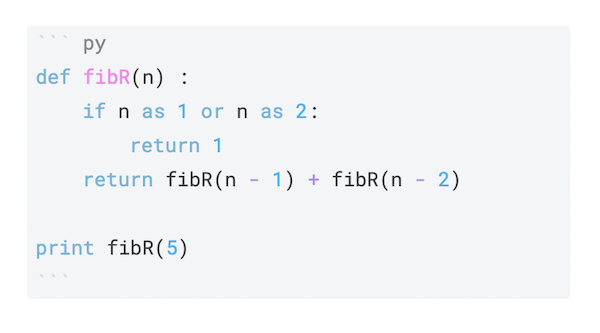 How to paste code snippets
If you are looking for a quick way to insert a code snippet with syntax highlighting into Bear, you can use this quick trick:
Copy the lines of code
Select a note in Bear
Select the Paste From Code functionality, see below
Mac
Right click and select Paste From → Code.
iOS
Tap on the note and select Paste From... → From Code on the inline (dark) menu. Some of the supported languages for syntax highlighting and their abbreviations:
ABAP
ActionScript
ADA
Apache
APL
AppleScript
Arduino
ARFF
AsciiDoc
ASP.NET - aspnet
AutoHotkey
AutoIt
Bash
BASIC
Batch
Bison
Brainfuck
Bro
C / C++
C# - csharp
CoffeeScript - coffee
Clojure - clj
Crystal
CSP
CSS
D
Dart
Diff
Django/Jinja2 - django
Docker
Eiffel
Elixir
Elm
ERB
Erlang
F# - fsharp
Flow
Fortran
Fountain
GEDCOM
Gherkin
Git
GLSL
GraphQL
Groovy
GO - golang
Haml
Handlebars
Haskell
Haxe
HTTP
HTML
Icon
Inform 7 - inform7
Ini
Io
J
Java
Javascript - js
JSON
Julia
Keyman
Kotlin
Less
Liquid
Livescript
LOLCODE
Lua
Makefile
Markdown - md
MATLAB - mat
MEL
Mizar
Monkey
NAJS
NASM
ngnix
nim
nix
Objective-C - objc
Ocam
OpenCL
Oz
Pascal
Perl
PHP
PL/SQL - sql plsql
PowerShell
Prolog
Pug
Puppet
Pure
Python - py
Q
Qore - qore
R
React JSX - jsx
Ren'py - renpy
reST - rest
Ruby
Rust
SAS
SASS
Scala - sc
SCSS
Scheme
Shell - sh
SmallTalk
Smarty
Swift
TAP
Tcl
Textile
Tex/Latex - latex
Twig
TypeScript
VB.NET - vbnet
Velocity
Verilog
VHDL
vim
Visual Basic - visual-basic
WebAssembly - wasm
Wiki markup - wiki
Xeora
Xojo
XQuery
XML
YAML